Whether you're planning a visit to
the adorable Anna Maria Island
or you're looking for great places to invest in Florida real estate, this little island is overflowing with activities and restaurants. It has plenty of history you can delve into, seafood to consume, and nature to immerse yourself in and enjoy. There is so much on this seven-mile strip of shoreline for you to uncover.
While the most obvious thing to do on the island is to relax on its amazing beaches, here is our complete guide to Anna Maria Island that includes more than just beachside visits and dining options.
If you need assistance navigating Anna Maria Island real estate — either on the island or in the surrounding area —
Alexis Smith-Frady
real estate can help. We can assist you in your hunt for beach homes for sale in Anna Maria Island or a vacation rental property. Don't hesitate to reach out today with details on what you're looking for.
Where Is Anna Maria Island?
Anna Maria Island is a seven-mile-long and two-mile-wide barrier island off the coast of Florida in the Gulf of Mexico. Off Bradenton, Anna Maria is located between Sarasota and Tampa. It features stunning clear-blue waters and is home to manatees, dolphins, and plenty of gorgeous cottages and wooden piers.
Despite its charm and incredible hospitality, Anna Maria Island avoids the typical Florida crowds, priding itself in the "old Florida" feel that's been mostly consistent since the 1970s. Buildings on Anna Maria Island aren't allowed to rise any higher than two stories, and there are many strict eco-friendly rules that all local businesses must follow.
It's common for vacationing families and locals to gather at the many dazzling beaches for a view of the endless breathtaking sunsets. Be sure to bring chairs or towels and claim your spot early to enjoy the changing sky colors and reflective waters.
Anna Maria Island Beach Details
Many visitors often wonder where the Anna Maria Island beach is when they visit the island, but don't waste your time searching because there isn't one with this name. This is a common misunderstanding among newcomers and first-time visitors to the island. While Anna Maria Island features many stunning beaches, none of them are named "Anna Maria Island Beach."
Anna Maria Island is actually divided into three cities (the City of Anna Maria, Bradenton Beach, and Holmes Beach). All of them have their own unique beaches. Here are details on some of the best beaches in the area where you and your family can enjoy a day in the sun and sand:
Bean Point Beach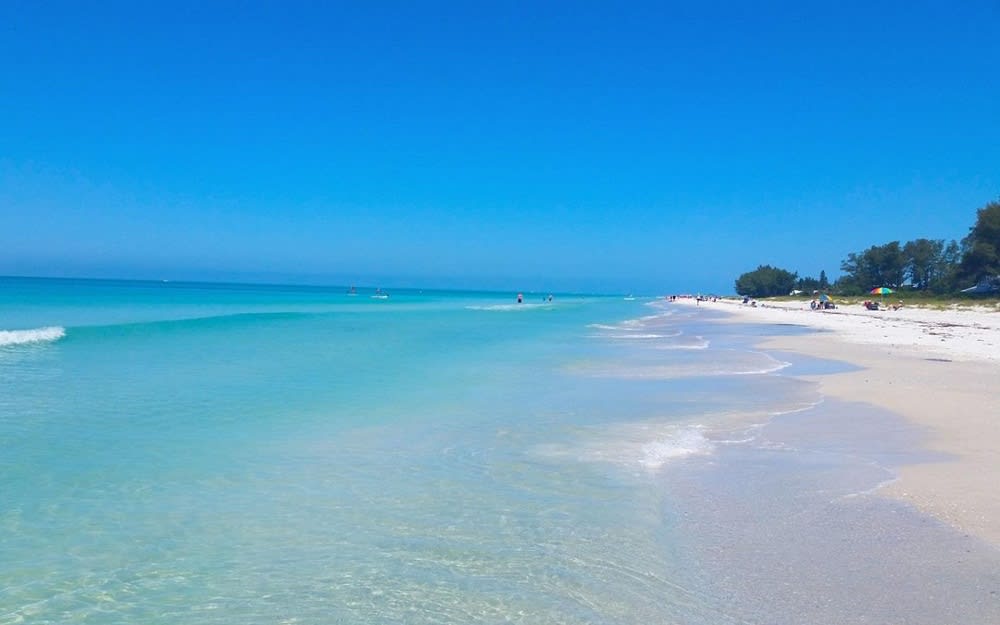 Photo Courtesy of Tripadvisor
Beach Access
This is the northernmost beach on the island, located in the City of Anna Maria. It's smaller than some of the other beaches and not as popular. Some tourists don't even know the beach exists, and it's a popular spot for fishing due to the substantial drop-off in the ocean.
Keep in mind that it's not the safest beach when it comes to swimming due to the drop-off in the sand. Beach access to Bean Point Beach is marked with a small white sign reading "Public Beach Access" near the intersection of Fern Street and North Shore Drive. This leads to a short trail that will take you to your oasis.
Beach Parking
Parking for Bean Point Beach is the most complicated of all the island's beaches, but it's still possible. While there is no parking lot, there is limited street parking available. Look for the "Public Beach Access" sign to give you an idea of where you should park and avoid any "no parking" areas on the street.
Manatee Public Beach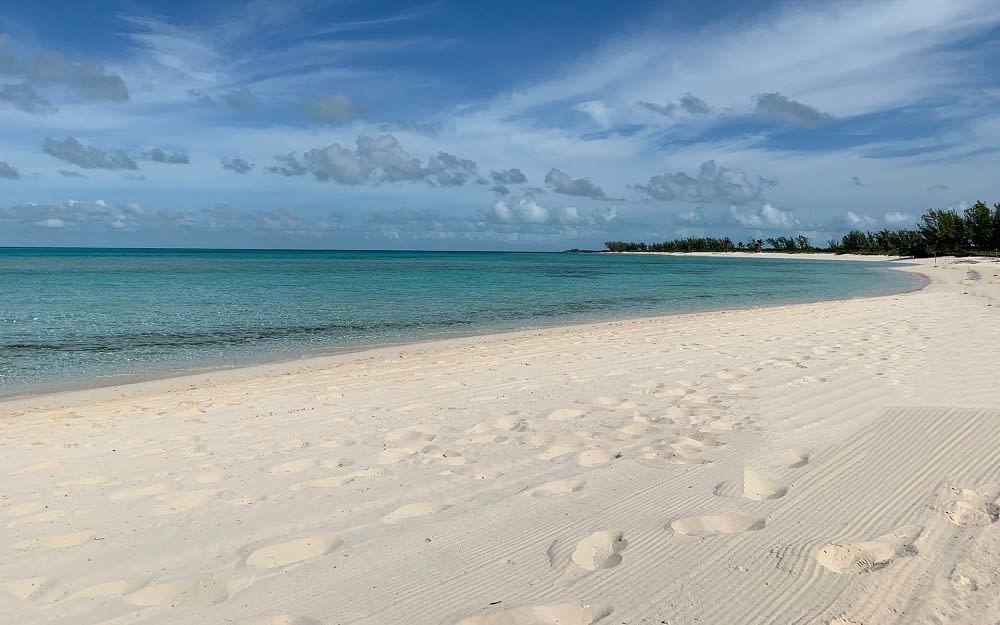 Photo Courtesy of Rent the Keys
Beach Access
Located in the city of Holmes Beach, Manatee Public Beach is a more southern beach that attracts lots of crowds and families. It's the first beach you see when you enter the island by the Anna Maria Island Bridge, and it's one of the most popular beaches on the island, if not number one. There are plenty of facilities to help enhance your beach experience, from bathrooms to shops to cafes. Expect great swimming conditions, plenty of space for beach volleyball, and nearby gift shops.
Beach Parking
This beach has some of the most straightforward parking, offering a generous parking lot near the entrance located at Manatee Avenue and Gulf Drive. Keep in mind that since this is a popular beach, the parking can fill up quickly. Arrive early if you want to guarantee yourself a spot.
Coquina Beach


Beach Access
Located in the southernmost community of Anna Maria Island in Bradenton Beach, Coquina Beach features lovely shorelines and stunning waters. It's less popular than Manatee Public Beach, likely due to its less central location, but there are still great facilities for families, a concession stand, playground, volleyball courts, restrooms, and more.
Beach Parking
Parking for Coquina Beach is graciously simple. You can find plenty at the main entrance on Gulf Drive or farther down at 6th Street South. Since this beach is not quite as popular as Manatee Public Beach, you can usually find parking no matter what time of day you decide to visit.
Bayfront Park
Beach Access
This is another popular beach near the Anna Maria Island City Pier. It has plenty of easy beach access and is located near some of the most popular shops and restaurants on the island. It's perfect for a romantic picnic or a day of fun with the kids. There are nearby trees that provide some shade as well as convenient facilities like restrooms, showers, grills, tables, and more.
Beach Parking
Bayfront beach has a substantial parking lot, and most visitors don't have any trouble finding a spot. However, the weekends can draw bigger crowds, so plan ahead if you intend to visit during some of the more popular times. Obey any posted parking signs since there are some areas where parking is not allowed, especially if you end up needing to park on the street.
Things to Do on Anna Maria Island
Dine at The Waterfront Restaurant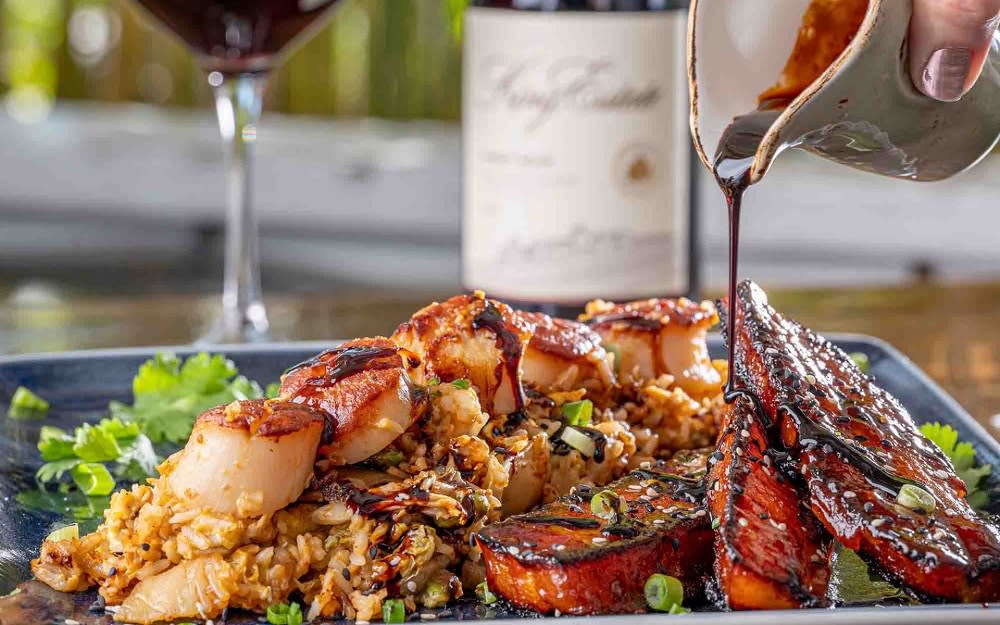 Located near Bayfront Beach, this is "Anna Maria's Premiere Island Dining & Craft Bar." Not only does
The Waterfront Restaurant
provide you with an outstanding dining experience, but you also get to escape into an atmosphere representing everything Florida used to be: tropical, laid back, and relaxing. Expect fresh, classic American seafood, salads, and steaks served with the finest, freshest products available.
Grab Coffee at The Waffle Press on Pine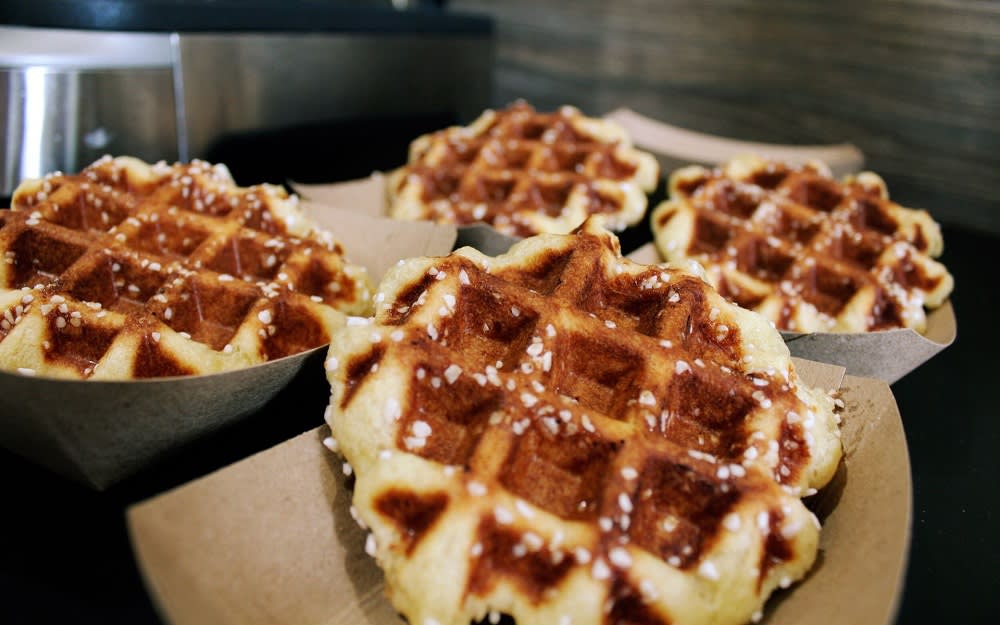 If you're looking for a quality cup of coffee, a smoothie, or a scratch-made waffle, you can't go wrong with
The Waffle Press on Pine
. You can swing by for lunch or grab a quick snack for the beach. Either way, they know what you want while walking around the welcoming Anna Maria Island streets and are dedicated to providing innovative and delicious bites.
Get Some Ice Cream at 2 Scoops
If one scoop is good, then two scoops are even better. At least, that's what they say over at T
wo Scoops Ice Cream Parlor & Coffee Café
. Enjoy any of their 32 flavors of delicious homemade ice cream, the perfect refreshment for your time in the Florida sun.
Snag a Quick Bite at Poppo's
Few things go as perfectly with the beach as some delicious tacos and burritos. That's why you absolutely must swing by Poppo's Taqueria for some straightforward scrumptious food. Your meal is prepared quickly and efficiently, but that doesn't mean they cut corners on flavor and food quality. You'll want to go back again and again.
Check Out The Ugly Grouper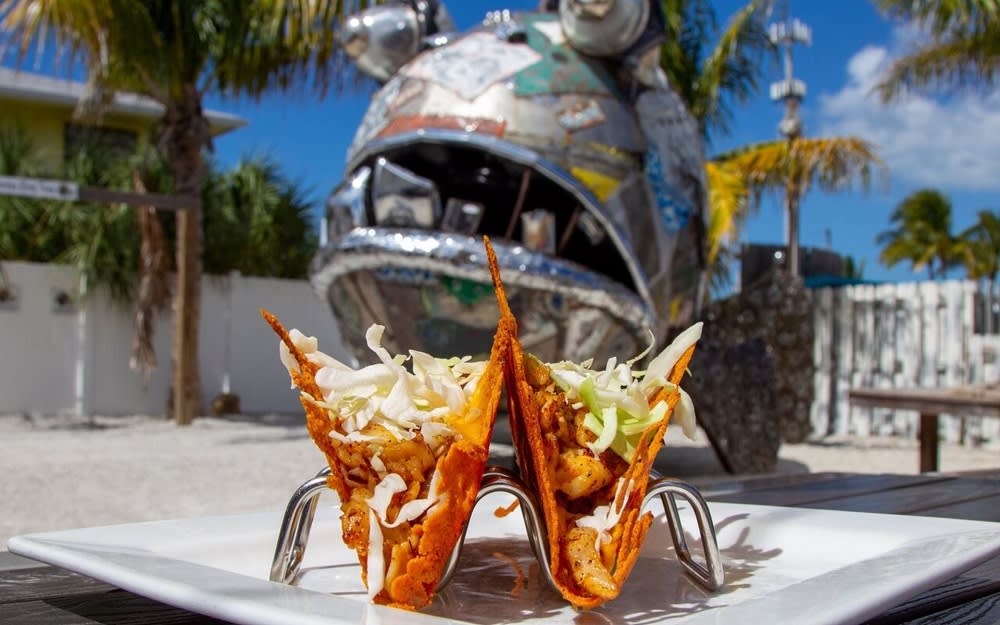 One of the best places on the island to go for tasty seafood and live music,
The Ugly Grouper
is sure to provide you with an unforgettable dining experience. It's family-friendly, available for private events, serves delectable craft beer and cocktails, and has the memorable giant ugly grouper statue. What else could you ask for?
Kayak the Mangroves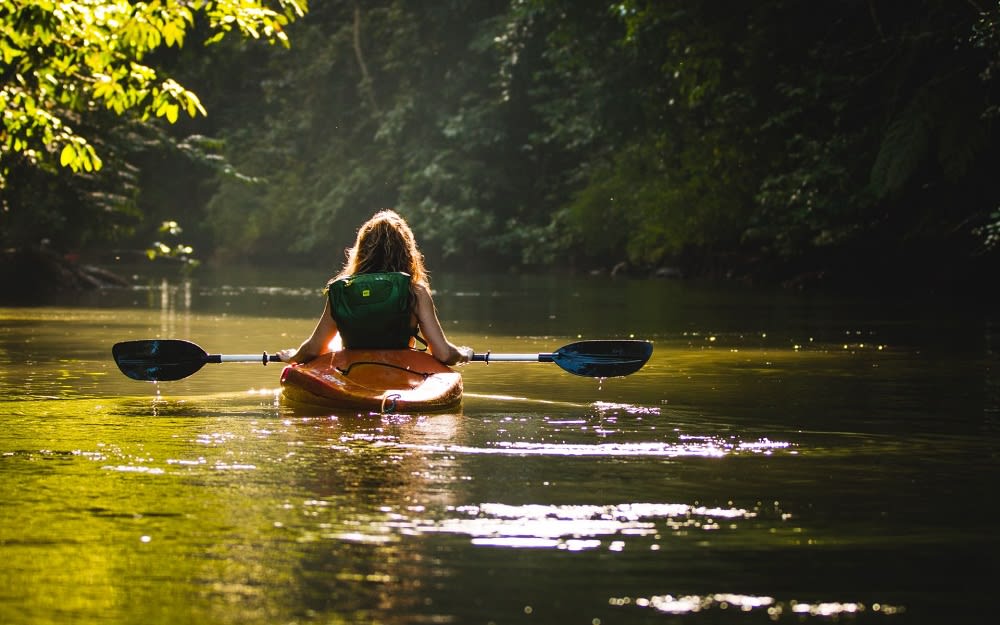 Kayaking around Anna Maria Island is available all year long and always presents a delightful experience. You can count on beautiful weather at any time of year, and there are endless opportunities for kayaking, including the mangroves.
Rent a Scooter and Explore the Island
If you're looking for a fun, carefree way to spend the afternoon, then swing by one of the scooter rentals on the island and pick out a scooter for an afternoon ride. Enjoy the breeze, see the island from a fresh perspective, and explore all the charming streets with their classic Floridian homes.
Watch the Sunset
You can't spend too many nights on Anna Maria Island without taking the opportunity to soak in the stunning sunsets. Pick your favorite beach, bring along food from your favorite restaurant, and watch the sunset over the magnificent Gulf of Mexico.
Anna Maria Island Beach Homes are Waiting for You
Anna Maria Island is and has always been such a quaint, charming Florida town. It offers plenty of beaches — none of which get too crowded — and an abundance of delicious eateries and shops, with a variety of high-quality real estate.
Contact Luxury Coastal Living
real estate if you're looking to enter the Anna Maria Island real estate market. We can help you find a home that's perfect for all your needs.