The calm and peaceful Anna Maria Island is one of Florida's most beautiful places to vacation. With miles of pristine white beaches and sparkling clear waters, it's hard to be stressed when you're here! In recent years, many people have chosen to search for their dream vacation home on this tranquil barrier island on the Gulf of Mexico. Read on to learn more about why this gorgeous island makes such a fabulous place to purchase a vacation home!
1. Picturesque beaches
Anna Maria Island contains seven miles of stunning white sand beaches, perfect for tanning, building sandcastles with the kids, or simply relaxing with a cold drink and a good book. This beach-lined island is a great place to enjoy water recreation like kayaking, paddle boarding, jet skiing, parasailing, or boating. Lots of Anna Maria Island businesses offer water adventures and private tours so that you and your group can experience all that the island has to offer! You can even enjoy a horseback ride on the beach, which makes for a lovely date idea.
If you're into fishing, there are plenty of opportunities to partake in around the island. You'll find an incredible assortment of fish in the Gulf of Mexico waters, including flounder, mackerel, and barracuda. Before getting started, you'll want to look into the necessary
fishing licenses
you'll need. Then you'll be ready to head to one of Anna Maria Island's best fishing spots, including the Anna Maria Island City Pier, Rod and Reel Pier, the Coquina Beach Bayside, or Longboat Pass. An added bonus that comes with an island populated by stellar seafood restaurants? You can actually call ahead to request that the restaurant prepare your catch of the day for that evening's dinner! This is a great way to enjoy the payoff of all your hard work.
2. Peaceful and relaxing atmosphere
One of the major benefits of Anna Maria Island is that it's not crowded with high-rise buildings, fast food restaurants, or condominium complexes. This makes the island quite different from a lot of other Florida beach towns! If you're looking to purchase or rent a vacation home in an area of Florida that isn't swamped with tourists, then Anna Maria Island is an excellent choice.
When browsing Anna Maria Island real estate for your perfect vacation home, you'll have a variety of choices, including beachfront cottages, gorgeous multi-million dollar mansions, and cozy low-rise condos with beautiful ocean views. You can even choose to purchase an undeveloped lot and build the vacation home of your dreams! With homes located on spacious lots and plenty of greenery and plant life, you'll be able to relax in your tranquil new neighborhood without feeling like you're crowded by neighbors.


3. Stunning wildlife
One of the most amazing perks of Anna Maria Island is the incredible wildlife that will surround you on a daily basis. The island is home to five different types of sea turtles, the most common type being the loggerhead; they can be seen foraging for food along the coastline or passing through during their May to October migration period. Many people visit the island each year to catch a glimpse of these
magnificent creatures
. Look for areas of the beach that are roped off to protect the turtle nests, and make sure not to shine any bright lights near these nests to keep the turtles protected and safe. For more information, the local
Crosspoint Fellowship Church
offers a Turtle Talk on Tuesdays throughout June and July, a free 30-minute program that provides education and information on turtle nesting and gives activity books to the kids!
Anna Maria Island is also known as a bird sanctuary and attracts many birdwatchers each year. During your vacation, you'll likely catch a glimpse of pelicans, cranes, herons, parrots, osprey, hawks, vultures, seagulls, sandpipers, crows, and even bald eagles! To learn more about the beautiful birds and other wildlife that inhabit the island, stop by the
Wildlife Education and Rehabilitation Center
. Since 1987, the volunteer-run rehab center has treated thousands of birds. Support their efforts by taking an educational tour at
Mixon Fruit Farms
, where these beautiful animals are showcased.
Anna Maria Island is an amazing place to vacation for people who want to live alongside some truly incredible wildlife. Keep an eye out when you're near the Intracoastal Waterway or Bimini Bay you might just see a bottlenose dolphin!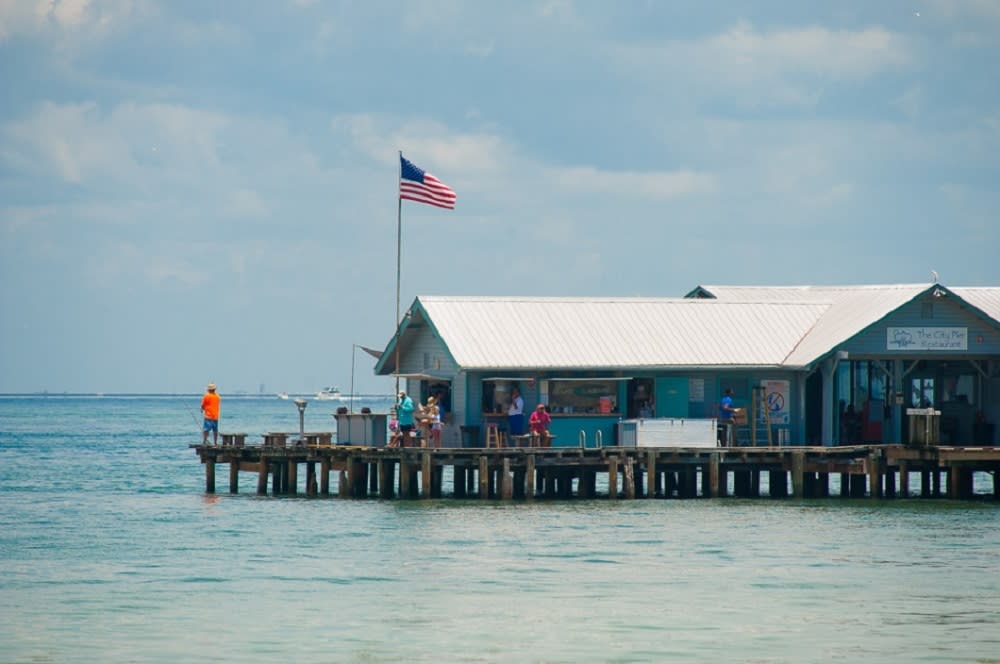 Credit: AnnaMaria.com

4. Lots of outdoor recreation
With a vacation home on Anna Maria Island, you'll have plenty of opportunities to get out and enjoy the area's stunning natural beauty. While you certainly can spend the day lounging on the beach, there are also plenty of fun ways to explore your new vacation destination! Grab your bike and hit the Coquina Beach Bike Path, a multi-use trail that takes you right along the water, allowing you to view some incredible wildlife and stop at some excellent shops and restaurants. You can even rent a golf cart or scooter to get around or simply stroll along the beautiful vegetation-lined paths for a brisk morning walk. You can even travel across the island using the free trolley system!
To really immerse yourself in Florida's stunning natural beauty, head onto the mainland to explore Bradenton's gorgeous hiking trails.
Robinson Preserve
is home to nearly 700 acres of nature to explore, packed with walking and biking trails! This is a great place to walk your dog, picnic with the family, rent a kayak to explore the water, and view the unique and fascinating wildlife. The gorgeous
Lake Manatee State Park
is also a great place to get outside and enjoy the natural wonders of Florida. Bring your bike or explore the trails on foot, and partake in fun outdoor activities like kayaking, fishing, or swimming!
Back on the island, you can spend an entire day soaking up the sun at Bayfront Park. Located conveniently close to shops, restaurants, and historic sites,
Bayfront Park
is the perfect place for families to enjoy Anna Maria Island's gorgeous weather. The waters are calm enough for kids to swim safely, and the sandy beaches are great for relaxing with a good book and enjoying the bright sunshine. Explore the crystal clear blue waters by renting kayaks or paddleboards! The Bayfront Park waters are also excellent for fishing, particularly for beginners who are just learning the ropes. The park also features plenty of grassy space for picnicking with the whole family under the shade of the trees; the kids will love playing on the brand-new playground nearby!
During your day out at Bayfront Park, you'll certainly want to pay a visit to the historic
Anna Maria City Pier
. Built-in the early 1900s to receive steamboat passengers as they crossed Tampa Bay, the pier is a great place to watch the local birds or enjoy the gorgeous sunset. The pier is also known for being an excellent gulf coast fishing spot and for its proximity to some great local restaurants and shops.
5. Fabulous dining opportunities
When you rent or purchase a vacation home on Anna Maria Island, you'll never have to worry about cooking at home if you don't want to! There are plenty of incredible restaurants in the area to explore, great for nights out with friends and spending time with family. Try the award-winning seafood restaurant
Anna Maria Oyster Bar
, a casual eatery that's so much more than just oysters. Enjoy gorgeous water views while you try fantastic seafood dishes like Calamari Salad, the Florida Lobster Tail baked to perfection, a cup of creamy Lobster Bisque, and the Fresh Gulf Grouper Sandwich served blackened, fried, or grilled. You'll also love the incredible water views from the
Waterfront Restaurant
, an Anna Maria Island favorite serving up wasabi-crusted tuna, grouper cakes, and fried shrimp; there are also plenty of non-seafood options like the chicken parmesan or pasta primavera.
For a fun evening with friends, stop by local favorite
Harry's Grill
for burgers and craft brews. Bring your dog and relax on the outdoor patio listening to live musical performances! Voted Best Burger on the Island for years in a row, Harry's Grill serves up a variety of tasty cheeseburgers as well as double-layered nachos, pulled pork BBQ sandwiches, and plenty of other classic favorites. After dinner, take the kids to
Two Scoops
for a fun treat! With delicious flavors like birthday cake, sea salt caramel, and raspberry sorbet, there's something here for everyone.
If you're looking for luxurious vacation homes for sale on Anna Maria Island, contact Alexis Smith-Frady today! With years of experience in Anna Maria Island real estate, she will be happy to help you find the perfect vacation home of your dreams.